Monday, April 16, 2001

Trellix and Blogger

The company I founded,
Trellix Corporation, acquired a license to Blogger technology
from Evan William's Pyra Labs. You can read more about it on the
Trellix
and
Blogger
web sites.


Evan while visiting Trellix last week, sample Blogger logo

Thursday, April 12, 2001

Happy birthday Prince!

Today's
my dog's 10th birthday
. I
wrote about him
last August in a posting about the San Francisco baseball retrievers. He's still as cute as ever, but probably more mischievous. Here's a picture of him that I used on my old
Web Photo Journals
web site:

Prince a couple of years ago -- he still looks the same

Tuesday, April 10, 2001

More big planes

I received
an email
last night from another reader
reacting to
my story
about the big plane in Florida
:
If you think the plane you saw was big, what will you think of this wonderful plane:
This is an Airbus Beluga (to move pieces of planes from one city to another). I live in Nantes, France, one of the cities where there's an EADS (European Aeronautic Defence and Space Company) plant. They use the Beluga to move plane parts built in Nantes to Toulouse or other cities where the parts are assembled to make Airbus planes.
Don't ask me how they move a Beluga !! ;-)
The best place to learn about it:
So, while the Antonov was big, in Europe they often see an even bigger plane. Now I've taken my curiosity about a big plane I happened to see about as far as it can go, I guess. Ah, the joys of having friendly readers around the world looking out for you...
I was back going through the Ft. Lauderdale airport last week. The big plane was gone. I asked the driver who picked me up about it. He said there were two Russian planes at some point, but they moved. I asked him if he knew why they were there. He didn't, even though he picks up people at the airport every day. I asked him how he found out it was a Russian plane. He said he asked someone. I told him about the Norwegian boat...
The same driver knew my plane was late by using "the Internet" on his cell phone (Nextel, I think). He demonstrated. Later I asked what the weather was going to be. He whipped out his phone and punched a few keys and read off the forecast. "What about Akron, where I'll be going next to see my sister?" I asked. I wasn't sure of the zip code -- so he first found the weather for Kentucky -- but eventually got it right. (Cell phones are good for numbers and choosing from a small list, not words, I guess.) "Want to know the weather somewhere else?" he asked. His tone and enthusiasm reminded me of the early TV ads for automated teller machines. "Ooh! Let me stop and check my balance! Wow! Want to see me check it again?" Early adopters are fun to watch, but their enthusiasm is not always a leading indicator.
Wednesday, April 4, 2001

"Metaphors, Not Conversations" essay written on the flights to Comdex Chicago

My "
The 'Computer as Assistant' Fallacy
" essay last week proved quite popular. I was inspired to write
a follow up essay describing what style of products I think should be constructed
. I wrote most of it on the plane to and from Comdex Chicago. As you might have heard, the computer show shared the convention hall with another show: Waste Expo. Just another unexpected reminder of some problems in the dotCom days...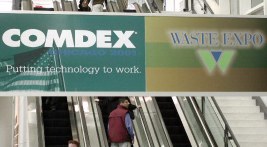 Two shows in Chicago, hardware for waste management




Comdex was small but there were attendees, E*TRADE Super Bowl ad we saw at PC Forum last week remembering the waste

Server problems

This web site has been up and down a lot over the last day. My hosting company has been working on it. Each time I call I get conflicting reports... If you're reading this, they fixed it. I apologize to those of you who've had problems trying to access it.
Thursday, March 29, 2001

PC Forum 2001

Earlier this week I attended Esther Dyson's PC Forum 2001 conference in Scottsdale, Arizona. I took some pictures, mainly of people, for my archives, but didn't plan on creating an on-line album. I felt that this being the third year I've been there with my digital camera, a third album would be pretty repetitious for most of my readers. The venue is the same, and many of the people are the same. This is different than a yearly family get-together, I thought, where some people just want to see pictures, even if they are "the same". Knowing that the nephews still smile and appear to get along with each other, or whatever, is enough. It's a way to connect with the family.
I found out, though, that some of the people there felt the same way as a family, and wanted pictures posted. Others who get bored can skip it, but they wanted to see them, they told me, even if all I mainly took were head shots. They appreciated me taking the time (mainly on my flight home), and let me know it. Ah, the blessing and curse of web site albums: people really like them. They aren't just a novelty. Good for my business, bad for my reading or working time on the plane home.
If you want to see some computer/Internet industry people at a conference,
look at my
PC Forum 2001 Album
. It's a picture album, not a report. If you're really into it, there is also one for
2000
and another for
1999
. The olders ones are much more of a report of what it's like, too, aimed at non-attendees.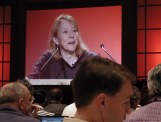 Esther Dyson opening PC Forum 2001

Monday, March 26, 2001

Learning to use things that are hard is part of being human

In response to the calls for simpler computers that are at your beck and call as "assistants", rather than as tools that we learn to use, I've written an essay. We don't ask for our automobiles to be more natural and intelligent, nor do we call for the next generation of cars to be like chauffeurs. With cars, we talk about responsiveness, comfort, power, cargo size, and safety. Few common things are as unnatural (nor dangerous to us and others) as driving a car and living in a car-centric society, yet people all over do. Billions of people know how to prepare food, even though it takes time to learn. Learning to do hard things is part of being human.
For many day to day things that we encounter infrequently or that don't matter to us much or in which we can be inefficient, ease of learning or using an "assistant" is the way to go. But, to say that there won't be a major computing-centric platform that we treat as something we are willing to take the time to learn to use is to have little confidence in it's importance. I believe general purpose personal computing has proven its value.
Friday, March 23, 2001

An email clears up the plane mystery

On
Monday
I posted my experience using a wireless device to do a web search to find out some information about a
huge
airplane I saw while waiting for a flight in Ft. Lauderdale. I wondered how valuable such a search capability was.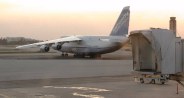 The huge transport plane I saw (lots of wheels!)

We Norwegian know a lot and I can tell you WHY that big Antonov was at the airport in Ft. Lauderdale, FL - It was used to transport two sailing boats from New Zealand to Florida. The boats (ehh - actually just one of them) is to compete in the Volvo Around the World Race that starts later this year. And yes - the team is Norwegian :--)
So, two things: Now my mystery is completely cleared up, and I again see the value of person to person interaction through personal web sites and the Internet. Having a web site that is read by people around the world who care is a wonderful thing, whether those people are friends and relatives or people you haven't met. The sense of community is very real. At the airport I asked some strangers standing next to me if they knew what the plane was. They were slightly annoyed and said "no". On the web, I found someone who knew the answer and cared to tell me. In our society so many forces isolate us from community. It's nice to be part of one force that is drawing people together. Wireless services are "interesting" at this point, but Internet-aided personal communication is definitely worth paying for and using now.